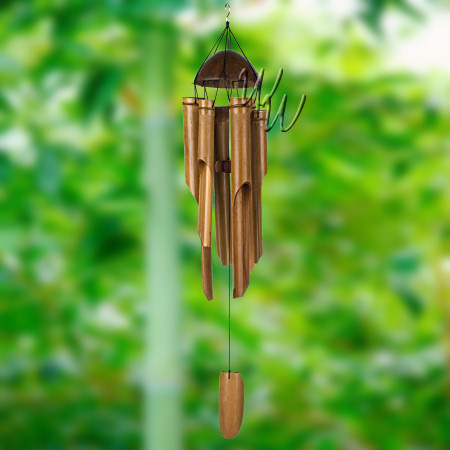 Bamboo Wind Chimes and Wind Bells
Bamboo Wind Chimes and Wind Bells at Whimsicalwinds.com, Your Best Source for Bamboo Windchimes at unbeatable prices. Largest Selection of tuned Bamboo wind chimes!
Bamboo Wind Chimes
Bamboo Wind Chimes
Bamboo, one of the ″four gentlemen″ (bamboo, orchid, plum blossom and chrysanthemum)
Plays such an important role in traditional Asian culture that it is even regarded as a behavior model of the gentleman. As bamboo has some features such as uprightness, tenacity and hollow heart, people endow bamboo with integrity, elegance and plainness.
Bamboo's natural hollow form makes it an obvious choice for many instruments, particularly wind chimes. Our Bamboo wind chimes are handcrafted to naturally resonate, creating haunting music to grace your home and garden. Listen to each our Bamboo wind chimes below by following it's link or picture.
Denotes items that always ship for free. No shipping charges are calculated for Free Shipping items. Applies to the 48 contiguous United States. Does not include shipping to Alaska or Hawaii.
Software: Kryptronic eCommerce, Copyright 1999-2020 Kryptronic, Inc. Exec Time: 0.037328 Seconds Memory Usage: 2.004021 Megabytes