Handcrafted Big Mouth Bass Bamboo Bell Chime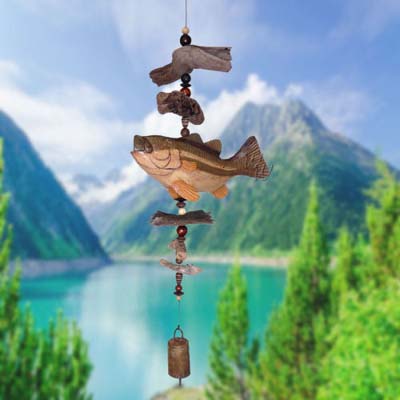 Cohasset Wind Chimes
This Cohasset wind bell features hand carved and painted Big Mouth Bass, with driftwood accents 32 inches long x 8 inches wide (approximately)
bamboo
558
558
59.00
Whimsical Winds Wind Chimes
https://whimsicalwinds.com/Item/Big-Mouth-Bass-Bamboo-Bell-Chime
Handcrafted Big Mouth Bass Bamboo Bell Chime
Handcrafted Big Mouth Bass Bamboo Bell Chime
This Cohasset wind bell features hand carved and painted Big Mouth Bass, with driftwood accents
Each unique bamboo chime is hand-carved, hand-painted, and hand tuned by family craftsman on the beautiful island of Bali.
Dimensions: 32 inches long x 8 inches wide (approximately)
Receive an in stock email notification for this item as soons as it becomes available.
558 - Handcrafted Big Mouth Bass Bamboo Wind Chime
Denotes items that always ship for free. No shipping charges are calculated for Free Shipping items. Applies to the 48 contiguous United States. Does not include shipping to Alaska or Hawaii.
Software: Kryptronic eCommerce, Copyright 1999-2023 Kryptronic, Inc. Exec Time: 0.035793 Seconds Memory Usage: 1.481216 Megabytes