Handcrafted 30 Inch Cowboy Hat Bamboo Wind Chime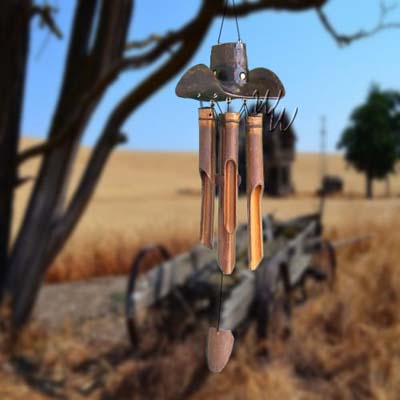 Cohasset Wind Chimes
6 hand-tuned bamboo tubes Cowboy Hat top 30 inches long x 6 inches wide (approximately)
bamboo
154
154
49.00
Whimsical Winds Wind Chimes
https://whimsicalwinds.com/Item/Bamboo-Cowboy-Hat-Wind-Chime
Handcrafted 30 Inch Cowboy Hat Bamboo Wind Chime
Handcrafted 30 Inch Cowboy Hat Bamboo Wind Chime
Each unique bamboo chime is hand-carved, hand-painted, and hand tuned by family craftsman on the beautiful island of Bali. Only high quality bamboo, solid wood and hand polished coconut shells are used to create these whimsical works of art.
This chime has: 6 hand-tuned bamboo tubes Cowboy Hat top
Dimensions: 30 inches long x 6 inches wide (approximately)
Receive an in stock email notification for this item as soons as it becomes available.
154 - Handcrafted 30 Inch Bamboo Wind Chime - Cowboy Hat
Software: Kryptronic eCommerce, Copyright 1999-2021 Kryptronic, Inc. Exec Time: 0.118021 Seconds Memory Usage: 1.564072 Megabytes