Woodstock Percussion 37 Inch Celestial Bamboo Chime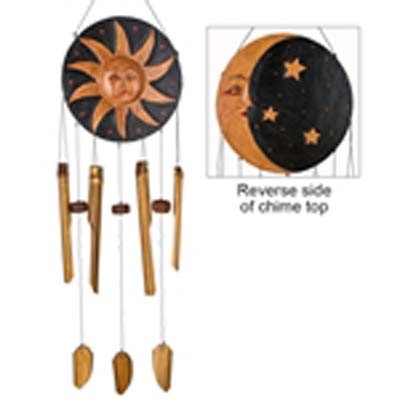 Woodstock Percussion Wind Chimes
Peaceful moon or sunny side up 37 in. Overall Length Hand-carved, hand-painted Saygon wood, 4 bamboo tubes
CMCEL
CMCEL
35.00
Whimsical Winds Wind Chimes
https://whimsicalwinds.com/Item/Woodstock-Percussion-37-Inch-Celestial-Bamboo-Chime
Woodstock Percussion 37 Inch Celestial Bamboo Chime
Woodstock Percussion 37 Inch Celestial Bamboo Chime
Peaceful moon or sunny side up, gentle tapping transports us to paradise. Bamboo gives our Asli Arts chimes a mellow, musical and enchanting sound unlike any other chime.
Dimensions: 37 in. Overall Length
Materials: Hand-carved, hand-painted Saygon wood, 4 bamboo tubes
Denotes items that always ship for free. No shipping charges are calculated for Free Shipping items. Applies to the 48 contiguous United States. Does not include shipping to Alaska or Hawaii.
Software: Kryptronic eCommerce, Copyright 1999-2020 Kryptronic, Inc. Exec Time: 0.035159 Seconds Memory Usage: 1.252792 Megabytes