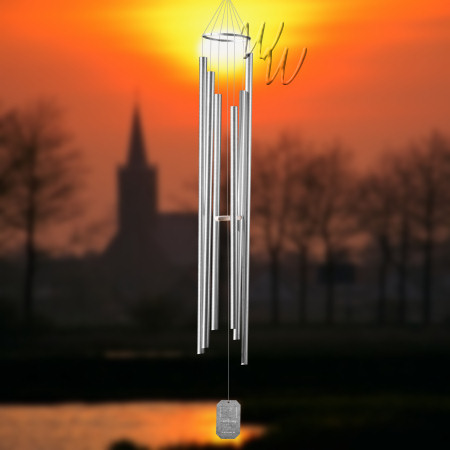 Church Bell Tuned Wind Chimes
Enhance the tranquility of your outdoor space with our exquisite church bell wind chimes. Expertly tuned to echo the soothing tones of church bells, these wind chimes bring a serene ambiance to your garden or home. Crafted with high-quality materials
Church Bell Tuned Chimes
Church Bell Tuned Chimes
The soothing music of church bells
Bring the calming sounds of church bells to your home with our beautifully crafted musically tuned Church Bell wind chimes.
Expertly tuned to echo the soothing tones of church bells, our wind chimes are designed to create a peaceful atmosphere on your porch, patio, or garden. Choose from a variety of sizes and designs, all made from premium materials that are built to last.
Experience the unique sound of each Church Bell tuned wind chimes by clicking on its image or link. Our wind chimes are perfect for unwinding and finding serenity in your own space. Shop now to bring home the tranquil tones of church bells with our exquisite wind chimes.
Denotes items that always ship for free. No shipping charges are calculated for Free Shipping items. Applies to the 48 contiguous United States. Does not include shipping to Alaska or Hawaii.
Get discounted pricing on Special Offer items when you buy today.
Denotes exclusion from all discount offers. Discount codes are not applicable on excluded items.
Software: Kryptronic eCommerce, Copyright 1999-2023 Kryptronic, Inc. Exec Time: 1.049729 Seconds Memory Usage: 2.172417 Megabytes