Woodstock Percussion 88 Inch Windsinger Chimes of King David - Black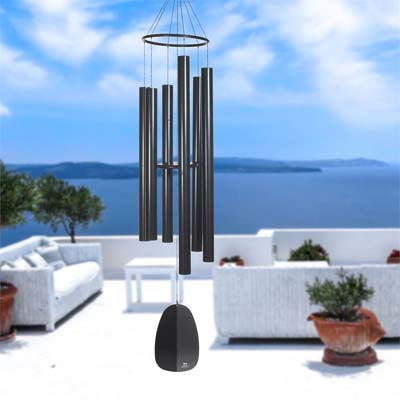 Woodstock Percussion Wind Chimes
Woodstock Percussion 88 Inch Windsinger Chimes of King David - Black, Fashioned after the original designs of Stephen Burnham, the look is boldly elegant and the sound is irresistibly beautiful. Made from extra thick-walled, specially suspended aluminum tubes, these chimes resonate much longer than any other chimes, producing enduring harmonies that are beyond compare. This chime has: 6 matte black aluminum tubes Nylon cording High density striker Dimensions: 88" long
WWKB
WWKB
550.00
Whimsical Winds Wind Chimes
https://whimsicalwinds.com/Item/Woodstock-Percussion-Windsinger-Chimes-Of-King-David-Black-88-Inch
Woodstock Percussion 88 Inch Windsinger Chimes of King David - Black
Woodstock Percussion 88 Inch Windsinger Chimes of King David - Black
Fashioned after the original designs of Stephen Burnham, the look is boldly elegant and the sound is irresistibly beautiful. Made from extra thick-walled, specially suspended aluminum tubes, these chimes resonate much longer than any other chimes, producing enduring harmonies that are beyond compare.
This chime has: 6 matte black aluminum tubes
Nylon cording High density striker
Dimensions: 88" long
**** Hidden Sale, Today Only! ****
Instant $ 150.00 off & Free Shipping
when placed in your shopping cart
Denotes items that always ship for free. No shipping charges are calculated for Free Shipping items. Applies to the 48 contiguous United States. Does not include shipping to Alaska or Hawaii.
Denotes exclusion from all discount offers. Discount codes are not applicable on excluded items.
Software: Kryptronic eCommerce, Copyright 1999-2020 Kryptronic, Inc. Exec Time: 0.023588 Seconds Memory Usage: 1.24968 Megabytes