Woodstock 32 Inch Bells of Paradise Chime - Pacific Blue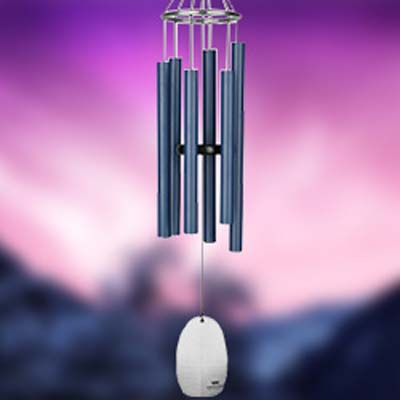 Woodstock Percussion Wind Chimes
Contemporary chimes in a soothing shade of blue to go with its serene song. This chime has: 6 matte blue powder-coated aluminum tubes Nylon cording High density striker Dimensions: 32" long
Woodstock
BPMPB
BPMPB
58.00
Whimsical Winds Wind Chimes
https://whimsicalwinds.com/Item/Woodstock-32-Inch-Bells-of-Paradise-Chime-Pacific-Blue
Woodstock 32 Inch Bells of Paradise Chime - Pacific Blue
Woodstock 32 Inch Bells of Paradise Chime - Pacific Blue
Contemporary chimes in a soothing shade of blue to go with its serene song.
This chime has: 6 matte blue powder-coated aluminum tubes
Nylon cording High density striker
Dimensions: 32" long
$131.98
$118.78
(Save 10%)
Get discounted pricing on Special Offer items when you buy today.
Denotes items that always ship for free. No shipping charges are calculated for Free Shipping items. Applies to the 48 contiguous United States. Does not include shipping to Alaska or Hawaii.
Software: Kryptronic eCommerce, Copyright 1999-2022 Kryptronic, Inc. Exec Time: 0.934256 Seconds Memory Usage: 1.363609 Megabytes