Arabesque 36 Inch Onyx Wind Chime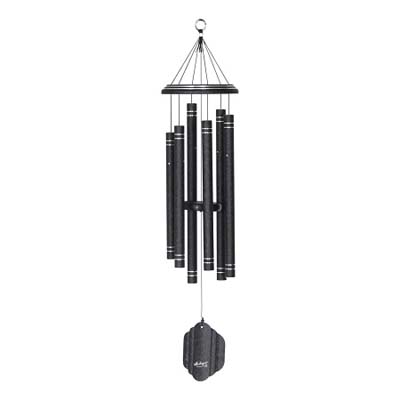 Arabesque Wind Chimes
Arabesque 36 Inch Onyx Wind Chime - Scale Of E. Our Onyx finish is a durable, textured Onyx black. This chime has: 6 aluminum powder-coated tubes Heavy duty nylon cording High density striker for a clear tone and high resonance Dimensions: 36" long ; 1" tube diameter This chime is hand-tuned to the key of E
Garden
AR306OX
AR306OX
163.98
Whimsical Winds Wind Chimes
https://whimsicalwinds.com/Item/Arabesque-36-Inch-Onyx-Wind-Chime
Arabesque 36 Inch Onyx Wind Chime
Arabesque 36 Inch Onyx Wind Chime
Our Onyx finish is a durable, textured Onyx black. One of Arabesque windchimes exceptionally popular colors. This amazing finish is classic and timeless.
This chime has: 6 aluminum powder-coated tubes
Heavy duty nylon cording High density striker for a clear tone and high resonance
Dimensions: 36" long ; 1" tube diameter
This chime is hand-tuned to the key of E
Proudly Made in the USA
Denotes items that always ship for free. No shipping charges are calculated for Free Shipping items. Applies to the 48 contiguous United States. Does not include shipping to Alaska or Hawaii.
Software: Kryptronic eCommerce, Copyright 1999-2023 Kryptronic, Inc. Exec Time: 0.033861 Seconds Memory Usage: 1.511597 Megabytes