Woodstock Percussion 37 Inch Seascapes Wind Chime - Seafoam Green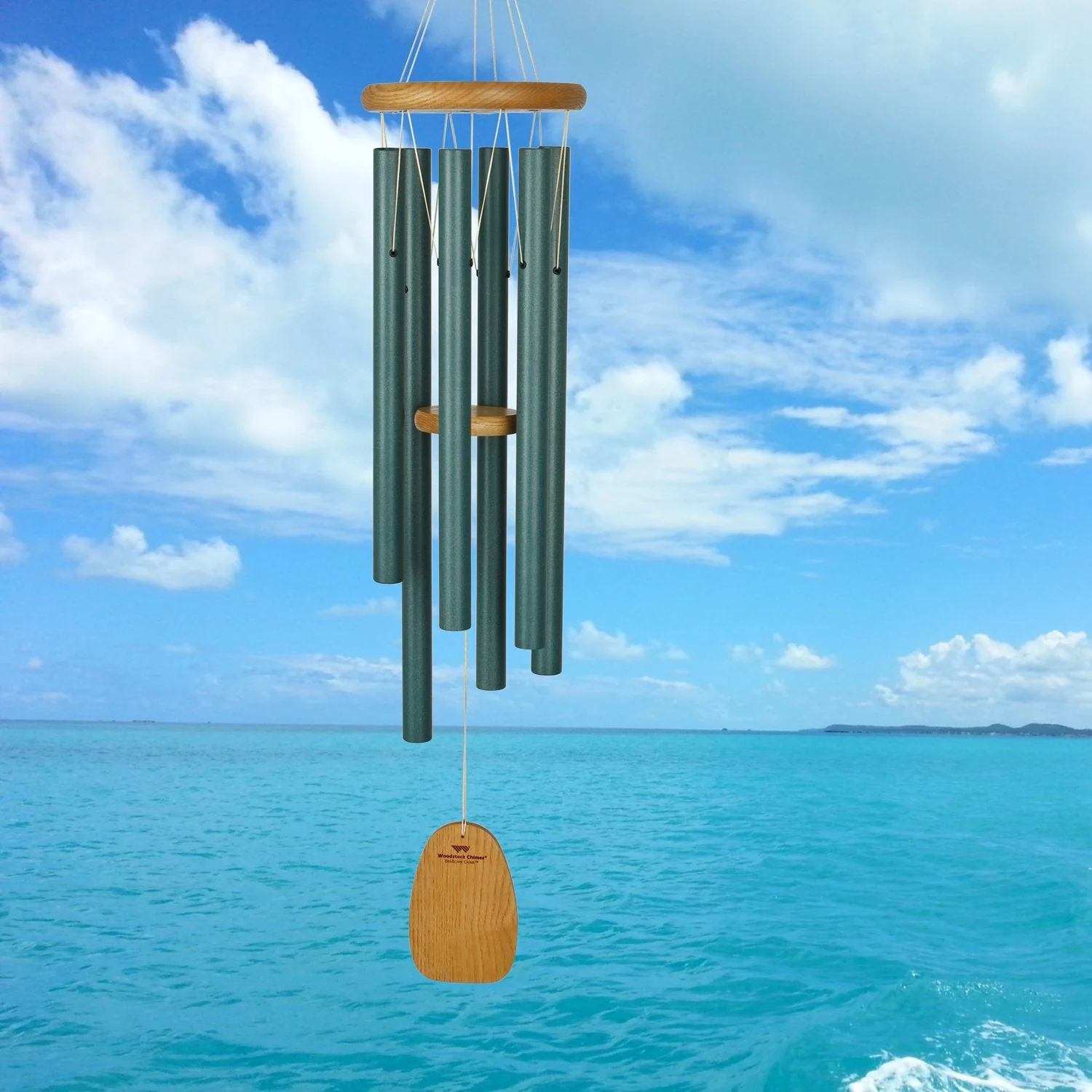 Woodstock Chimes
Wind Sail can be engraved with up to 100 characters of your thoughts, feelings, names, and dates. Featuring textured tubes with a gleaming finish, this tranquil chime is tuned to an ancient Asian pentatonic scale using a pure tuning system. The inspiring sound coupled with the softly shining seafoam green tubes gives you a peaceful feeling reminiscent of a relaxing day at the beach. This chime has: 6 green sand-textured aluminum tubes Nylon cording High density striker Dimensions: 37" long
Engraved
E-SSCSG
SSCSG
92.98
Whimsical Winds Wind Chimes
https://whimsicalwinds.com/Item/Woodstock-Percussion-37-Inch-Seascapes-Wind-Chime-Seafoam-Green
Woodstock Percussion 37 Inch Seascapes Wind Chime - Seafoam Green
Woodstock Percussion 37 Inch Seascapes Wind Chime - Seafoam Green
Wind Sail can be engraved with up to 100 characters of your thoughts, feelings, names, and dates.
Featuring textured tubes with a gleaming finish, this tranquil chime is tuned to an ancient Asian pentatonic scale using a pure tuning system. The inspiring sound coupled with the softly shining seafoam green tubes gives you a peaceful feeling reminiscent of a relaxing day at the beach.
This chime has: 6 green sand-textured aluminum tubes
Nylon cording High density striker
Dimensions: 37" long
$111.00
$99.98
(Save 10%)
Denotes items that always ship for free. No shipping charges are calculated for Free Shipping items. Applies to the 48 contiguous United States. Does not include shipping to Alaska or Hawaii.
Get discounted pricing on Special Offer items when you buy today.
Software: Kryptronic eCommerce, Copyright 1999-2023 Kryptronic, Inc. Exec Time: 0.018814 Seconds Memory Usage: 1.40258 Megabytes