Wind Bell Sail - Whale Tail Large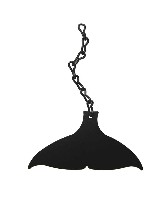 Whimsical Winds
Wind Bell Sail - Whale Tail Large Powder coated Made of Cor-Ten steel Dimensions: Approximately 6-8" long
garden
35042
Sail-35042
19.00
Whimsical Winds Wind Chimes
https://whimsicalwinds.com/Item/Whale-Tail-Wind-Sail
Wind Bell Sail - Whale Tail Large
Wind Bell Sail - Whale Tail Large
This sail is: Powder coated
Made of Cor-Ten steel
Dimensions: Approximately 6-8" long
Proudly Made in the USA
Receive an in stock email notification for this item as soons as it becomes available.
35042 - Wind Bell Sail - Whale Black Large
Denotes items that always ship for free. No shipping charges are calculated for Free Shipping items. Applies to the 48 contiguous United States. Does not include shipping to Alaska or Hawaii.
Software: Kryptronic eCommerce, Copyright 1999-2023 Kryptronic, Inc. Exec Time: 0.052813 Seconds Memory Usage: 1.180168 Megabytes