North Country Newport Buoy Bell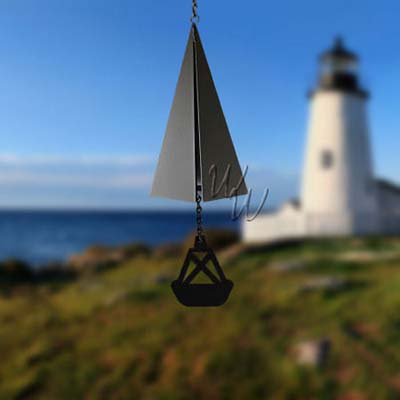 North Country Wind Bells
North Country Newport Buoy Bell. 13 1/2" bell approximately 28 1/2" long in triple tones
Buoy Bell
E161
161
65.98
Whimsical Winds Wind Chimes
https://whimsicalwinds.com/Item/North-Country-Newport-Buoy-Bell
North Country Newport Buoy Bell
North Country Newport Buoy Bell
The Newport Bell™ carries the rings of this premier destination for sailors and cruisers. Rich with nautical history, renowned world class regattas, and a go-to desination for vacationers. Many are reminded by the pleasant tones this bell brought them, as they sailed the Gould and Goat Islands.
This bell has: 13 1/2" bell and is 28 1/2" overall length in a triple tone.
Our North Country bell features a choice of windcatcher. Product is shown with White Whale windcatcher
Please choose your windcatcher below.
Proudly Made in the USA
Denotes items that always ship for free. No shipping charges are calculated for Free Shipping items. Applies to the 48 contiguous United States. Does not include shipping to Alaska or Hawaii.
Software: Kryptronic eCommerce, Copyright 1999-2022 Kryptronic, Inc. Exec Time: 0.044895 Seconds Memory Usage: 1.316444 Megabytes