North Country Block Island Buoy Bell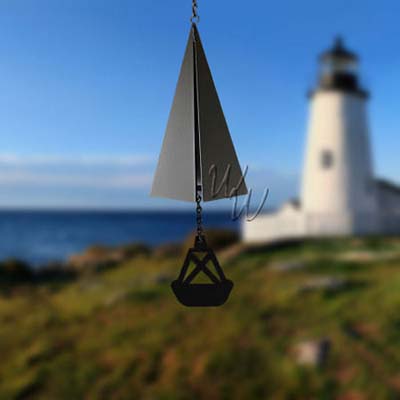 North Country Wind Bells
North Country Block Island Buoy Bell. 14.75" bell approximately 29" long in two tones with choice of wind sail
Buoy Bell
E115
115
78.98
Whimsical Winds Wind Chimes
https://whimsicalwinds.com/Item/North-Country-Block-Island-Buoy-Bell
North Country Block Island Buoy Bell
North Country Block Island Buoy Bell
Block Island has long been known for its dangerous shoals and frequent fog. The shores of this island present many perils for captains of vessels large and small. It's harbor buoys and famous lighthouses continue to be proud sentinels for their safety.
This bell has: 14.75" bell and is 29" overall length in a double tone.
Our North Country bell features a choice of windcatcher. Product is shown with Black Buoy windcatcher
Please choose your windcatcher below.
Proudly Made in the USA
Software: Kryptronic eCommerce, Copyright 1999-2022 Kryptronic, Inc. Exec Time: 0.031294 Seconds Memory Usage: 1.325829 Megabytes