Cardinal Nature Hook - Oil Rub Bronze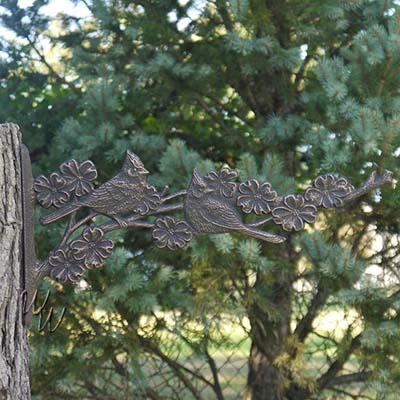 Whitehall Fine Home Accents
The Cardinal Nature Hook - Oil Rub Bronze is perfect for hanging flower baskets, wind chimes, bird baths, and feeders. This hook is made from rust-free, recycled aluminum and protected in a weather-resistant oil rub-bronze finish. This hook will hold approximately 7-10 pounds. This hook is: Made with Recycled Aluminum Maintenance free with hardware included for installation. Dimensions: 16" Length
garden
30378
30378
24.00
Whimsical Winds Wind Chimes
https://whimsicalwinds.com/Item/Bronze-Cardinal-Nature-Hook
Cardinal Nature Hook - Oil Rub Bronze
Cardinal Nature Hook - Oil Rub Bronze
The Cardinal Nature Hook is perfect for hanging flower baskets, wind chimes, bird baths, and feeders. This hook is made from rust-free, recycled aluminum and protected in a weather-resistant oil rub-bronze finish.
This hook will hold approximately 7-10 pounds.
Made with Recycled Aluminum
Maintenance free with hardware included for installation.
Dimensions: 16" Length
Proudly Made in the USA
Software: Kryptronic eCommerce, Copyright 1999-2023 Kryptronic, Inc. Exec Time: 0.050977 Seconds Memory Usage: 1.179886 Megabytes