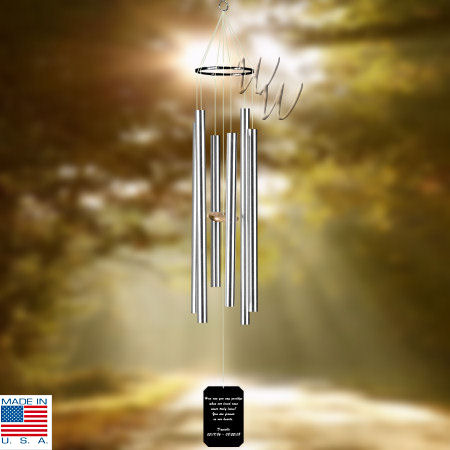 Wind Chime Gifts
Need a Unique and Lasting Gift? Personalized Wind Chimes! Surprise your loved ones with a personalized wind chime from Whimsical Winds! Our musically tuned custom-engraved wind chimes make great gifts for any special occasion. Not only are they thou
Gifts
Gifts
Need a Unique and Lasting Gift? Personalized Wind Chimes!
Surprise your loved ones with a personalized wind chime from Whimsical Winds! Our musically tuned custom-engraved wind chimes make great gifts for any special occasion.
Not only are they thoughtful, but they also add an elegant touch to any indoor or outdoor space. Hang them on your porch, balcony, deck, patio, or gazebo for a soothing ambiance.
Our wind chimes can be personalized as a beautiful memorial for a lost loved one or cherished pet. You can also commemorate a special occasion by surprising your friends or family members with the meditative melody of custom wind chimes.
Explore our selection of personalized wind chimes at WhimsicalWinds.com and customize each one to your liking. They're sure to be a hit with anyone who receives them as a gift.
Software: Kryptronic eCommerce, Copyright 1999-2023 Kryptronic, Inc. Exec Time: 0.102829 Seconds Memory Usage: 1.132767 Megabytes