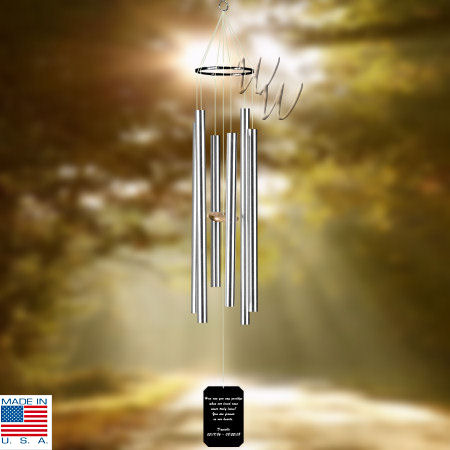 Personalized Wind Chimes & Gifts
Are you in search of a one-of-a-kind and heartfelt gift? Discover our meticulously handcrafted wind chimes, adorned with custom engravings that add a personal touch to each piece. These exquisite creations make ideal presents, providing a wonderful o
Personalized Windchimes
Personalized Windchimes
Make a thoughtful and lasting gift. A personalized wind chime, skillfully handcrafted and custom engraved, make great gifts and a lovely way to commemorate a special occasion or date, such as a holiday, birthday, wedding and housewarming, or any special event or occasion.
Personalized wind chimes are an elegant design perfect for any space inside or outside of your home, including a porch, balcony, deck, patio, terrace or gazebo. Create personalized memorial wind chimes to remember a lost loved one or a cherished pet. Or surprise a friend or family member with the meditative melody of custom wind chimes to commemorate a special occasion. Personalize a beautiful set of wind chimes for your home or as a thoughtful gift at whimsicalwinds.com
Listen to and personalize each of our Whimsical Winds Wind Chimes below by following its link or picture.
Software: Kryptronic eCommerce, Copyright 1999-2023 Kryptronic, Inc. Exec Time: 0.086862 Seconds Memory Usage: 1.076447 Megabytes