Woodstock Percussion 88 Inch Windsinger Chimes of King David - Black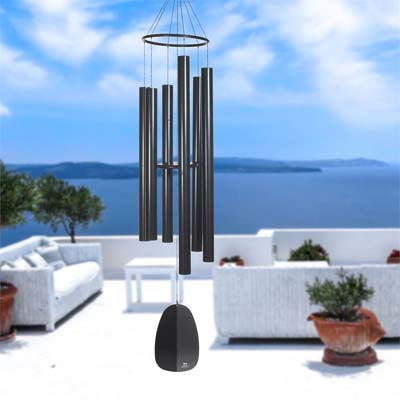 Woodstock Percussion Wind Chimes
Fashioned after the original designs of Stephen Burnham, the look is boldly elegant and the sound is irresistibly beautiful. Made from extra thick-walled, specially suspended aluminum tubes, these chimes resonate much longer than any other chimes, producing enduring harmonies that are beyond compare. This chime has: 6 matte black aluminum tubes Nylon cording Hign density striker Dimensions: 88" long
WWKB
WWKB
500.00
Whimsical Winds Wind Chimes
https://whimsicalwinds.com/Item/Woodstock_Percussion_Windsinger_Chimes_Of_King_David_Black_88_Inch
Woodstock Percussion 88 Inch Windsinger Chimes of King David - Black
Woodstock Percussion 88 Inch Windsinger Chimes of King David - Black
Fashioned after the original designs of Stephen Burnham, the look is boldly elegant and the sound is irresistibly beautiful. Made from extra thick-walled, specially suspended aluminum tubes, these chimes resonate much longer than any other chimes, producing enduring harmonies that are beyond compare.
This chime has: 6 matte black aluminum tubes
Nylon cording Hign density striker
Dimensions: 88" long
**** Today Only! ****
Instant $ 150.00 off when placed in your shopping cart
Denotes exclusion from all discount offers. Discount codes are not applicable on excluded items.
Software: Kryptronic eCommerce, Copyright 1999-2019 Kryptronic, Inc. Exec Time: 0.03167 Seconds Memory Usage: 1.24559 Megabytes