Woodstock 40 Inch Clair de Lune Chime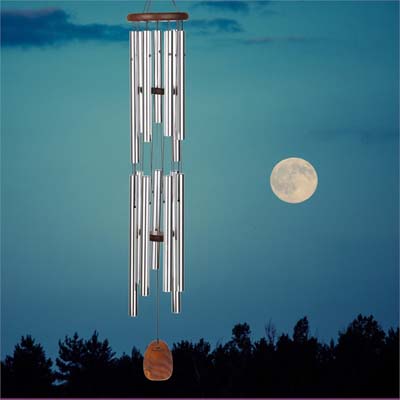 Woodstock Percussion Wind Chimes
This traditional windbell has clever dragonfly & bead accents. Cast metal with a verdigris finish. 20.5 in. Overall Length We have provided a sound file if you would like to hear this Chimes beautiful sound.
WCDL
WCDL
93.00
Whimsical Winds Wind Chimes
https://whimsicalwinds.com/Item/Woodstock_40_Inch_Clair_de_Lune_Chime
Woodstock 40 Inch Clair de Lune Chime
Woodstock 40 Inch Clair de Lune Chime
25% OFF Winter Special
This chime is tuned to the distinctive opening phrase of Clair de Lune, a melody made up of seven two-note chords.
To replicate this, the chime was designed with two different sized clappers, so both the upper and lower tubes are struck at the same time. In this way, it plays double stops, or two notes at one time.
40 in. Overall Length, Teak finish ash wood, 14 silver aluminum tubes
Get discounted pricing on Special Offer items when you buy today.
Denotes items that always ship for free. No shipping charges are calculated for Free Shipping items. Applies to the 48 contiguous United States. Does not include shipping to Alaska or Hawaii.
Software: Kryptronic eCommerce, Copyright 1999-2018 Kryptronic, Inc. Exec Time: 0.088892 Seconds Memory Usage: 9.871628 Megabytes