North Country Freedom Rings Buoy Bell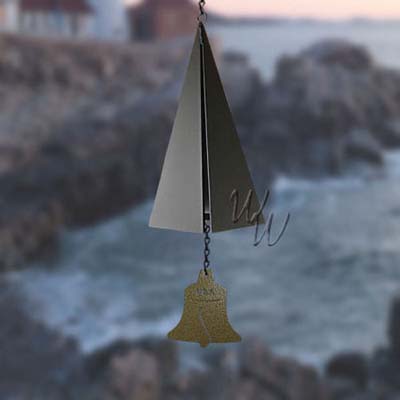 North Country Wind Bells
14" bell approximately 29" long in a single tone with choice of wind sail
110
110
71.95
Whimsical Winds Wind Chimes
https://whimsicalwinds.com/Item/North-Country-Freedom-Rings-Buoy-Bell
North Country Freedom Rings Buoy Bell
North Country Freedom Rings Buoy Bell
North Country Wind Bells and their staff are proud in the creation of this American Spirited "Freedom Rings Bell." This bell has a compelling solo tone reminiscent to the Liberty Bell representing every American's passion for their country encircling power, enduring justice, independence, liberty, fortitude and freedom for all!
This bell has:14" bell and is 29" overall length in a single tone.
Our North Country bell features a choice of windcatcher. Product is shown with Liberty Bell windcatcher
Please choose your windcatcher below.
Proudly Made in the USA
Denotes items that always ship for free. No shipping charges are calculated for Free Shipping items. Applies to the 48 contiguous United States. Does not include shipping to Alaska or Hawaii.
Software: Kryptronic eCommerce, Copyright 1999-2019 Kryptronic, Inc. Exec Time: 0.078689 Seconds Memory Usage: 4.541046 Megabytes