North Country Memorabell Buoy Bell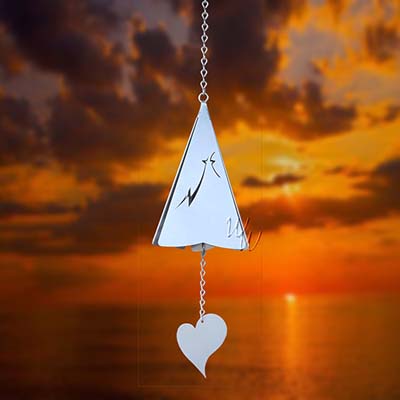 North Country Wind Bells
North Country Memorabell Buoy Bell. 10" bell Length of entire bell varies with wind sail choice. This chime offers triple tones.
E135
135
64.95
Whimsical Winds Wind Chimes
https://whimsicalwinds.com/Item/Memorabell-Buoy-Bell
North Country Memorabell Buoy Bell
North Country Memorabell Buoy Bell
This bell is a special bell to give to one sharing endearing memories of times past. The Memorabell's three sides denotes a story of a Great Love represented by Heart (side one), Soaring through the sky represented by a Thunderbolt, to the Moon and Stars represented on the final plate. The bell has three lovely tones. It is powder coated a beautiful 'pearlescent' silver! This bell has four windcatchers to choose from, Dream Heart, Lightning Bolt, Silver Star, and Black Star.
Bell 10 inches Tones: Three Color: Pearlescent Silver
Our North Country bell features a choice of windcatcher. Product is shown with Dream Heart windcatcher
Please choose your windcatcher below.
Proudly Made in the USA
Software: Kryptronic eCommerce, Copyright 1999-2019 Kryptronic, Inc. Exec Time: 0.038288 Seconds Memory Usage: 1.316055 Megabytes