Large Country Bell with Colored Duck Finial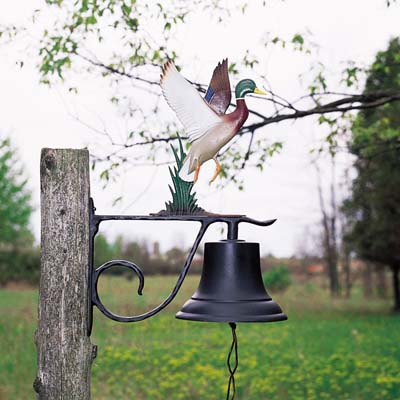 Whitehall Fine Home Accents
Large Country Bell with Colored Duck Finial. Measuring 8 inches in diameter, this USA made outdoor bell is a wonderful way to decorate the side of a building. A 13 inch long bracket is included so you can easily mount it. The smooth black satin finish matches any color scheme
04016
04016
83.98
Whimsical Winds Wind Chimes
https://whimsicalwinds.com/Item/Large-Country-Bell-with-Colored-Duck
Large Country Bell with Colored Duck Finial
Large Country Bell with Colored Duck Finial
Accent your garden, garage, shed, or barn with this lovely Large Country Bell. Colored aluminum duck finial attaches to the top of the country bell .
Measuring 8 inches in diameter, this USA made outdoor bell with colored duck finial is a wonderful way to decorate the side of a building.
A 13 inch long bracket with hardware is included so you can easily mount it
Manufactured from die cast, high-density aluminum alloy. All Weather Coating protects against the harshest weather and environmental elements.
Dimensions: 8" Diameter
Proudly Made in the USA
Software: Kryptronic eCommerce, Copyright 1999-2021 Kryptronic, Inc. Exec Time: 0.024808 Seconds Memory Usage: 1.222763 Megabytes