Grace Note 57 Inch Large Steeple Wind Chime Sunrise Serenade Black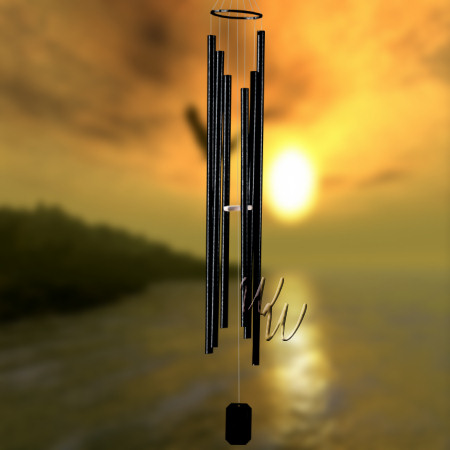 Grace Note Wind Chimes
Grace Note 57 Inch Large Steeple Wind Chime Sunrise Serenade Black can be engraved with up to 100 characters of your thoughts, feelings, names, and dates. All chimes are tuned in the key of C, with the corresponding notes and chords printed on one side of the wind plate (a.k.a. wind sail). Like the fresh feeling of a country morning. Sunrise Serenade imparts a serene energy. It will renew your spirit. This chime has: 6 black colored aluminum tubes with a soft brushed finish Heavy duty nylon cording Recycled lumber striker for a softer contact sound
Grace Note
7STB
7STB
191.25
Whimsical Winds Wind Chimes
https://whimsicalwinds.com/Item/Grace-Note-57-Inch-Large-Steeple-Wind-Chime-Sunrise-Serenade-Black
Grace Note 57 Inch Large Steeple Wind Chime Sunrise Serenade Black
Grace Note 57 Inch Large Steeple Wind Chime Sunrise Serenade Black
15% OFF SPECIALS
Like the fresh feeling of a country morning. Sunrise Serenade imparts a serene energy. It will renew your spirit.
This chime has: 6 black colored aluminum tubes with a soft brushed finish
Heavy duty nylon cording Recycled lumber striker for a softer contact sound
Dimensions: 57" long; 7/8" tube diameter
This chime is hand-tuned to the Chord: G Major 6/9 with the corresponding notes DEGABD engraved on one side of the wind sail
Reverse side of the wind sail can be engraved with up to 50 characters of your thoughts, feelings, names, and dates.
Proudly Made in the USA
Receive an in stock email notification for this item as soons as it becomes available.
7STB - Grace Note 57 Inch Large Steeple Wind Chime Sunrise Serenade Black
Get discounted pricing on Special Offer items when you buy today.
Denotes items that always ship for free. No shipping charges are calculated for Free Shipping items. Applies to the 48 contiguous United States. Does not include shipping to Alaska or Hawaii.
Software: Kryptronic eCommerce, Copyright 1999-2023 Kryptronic, Inc. Exec Time: 0.034685 Seconds Memory Usage: 1.496384 Megabytes