NORTH COUNTRY SEA ANCHOR BUOY BELL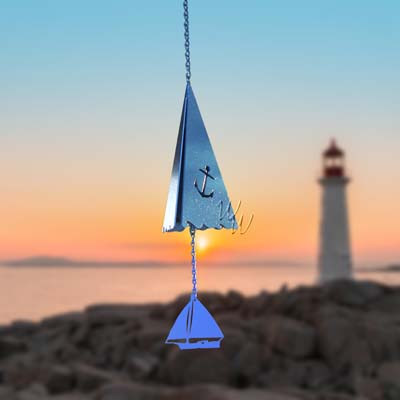 North Country Wind Bells
8" bell Length of entire bell varies with wind sail choice. This chime offers triple tones.
141
141
74.00
Whimsical Winds Wind Chimes
https://whimsicalwinds.com/Item/141
NORTH COUNTRY SEA ANCHOR BUOY BELL
NORTH COUNTRY SEA ANCHOR BUOY BELL
The Sea Anchor Wind Bell, will give you the feeling of being on the sea listening to the echo of the bell buoys on the waters, and being securely anchored! The wind bell is a vibrant blue color with an anchor on one side, dancing waves along the bells bottom edge and can be completed with a white veined starfish sailing in the winds, or any of our windcatcher options!
Bell: Height: 11 inches Tones: Three Color: Semi-Flat Blue
Our North Country bell features a choice of windcatcher. Product is shown with Blue Skipjack windcatcher
Please choose your windcatcher below.
Proudly Made in the USA
Denotes items that always ship for free. No shipping charges are calculated for Free Shipping items. Applies to the 48 contiguous United States. Does not include shipping to Alaska or Hawaii.
Software: Kryptronic eCommerce, Copyright 1999-2019 Kryptronic, Inc. Exec Time: 0.08184 Seconds Memory Usage: 4.545288 Megabytes