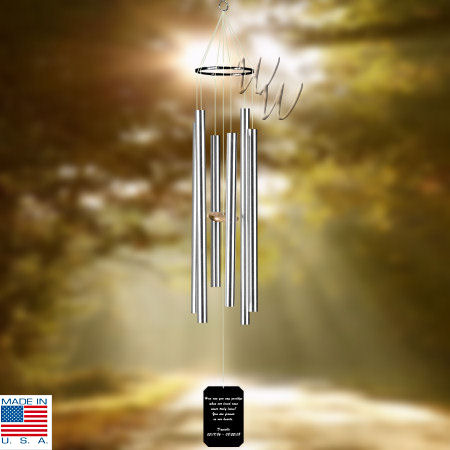 Personalized Wind Chimes
Make a thoughtful and lasting gift. A personalized wind chime, is a lovely way to create that perfect gift to commemorate a special occasion or date, such as a holiday, birthday, wedding, or any special event or occasion. You can create a unique one
Personalized Windchimes
Personalized Windchimes
Make a thoughtful and lasting gift. A personalized wind chime, is a lovely way to create that perfect gift to commemorate a special occasion or date, such as a holiday, birthday, wedding, or any special event or occasion.
You can create a unique one of a kind wind chime, A Wonderful & Thoughtful gift Flowers fade so quickly, but wind chimes play a soft musical reminder forever.
Listen to and personalize each of our Whimsical Winds Wind Chimes below by following it's link or picture.
Get discounted pricing on Special Offer items when you buy today.
Denotes items that always ship for free. No shipping charges are calculated for Free Shipping items. Applies to the 48 contiguous United States. Does not include shipping to Alaska or Hawaii.
Software: Kryptronic eCommerce, Copyright 1999-2022 Kryptronic, Inc. Exec Time: 0.045721 Seconds Memory Usage: 2.806122 Megabytes